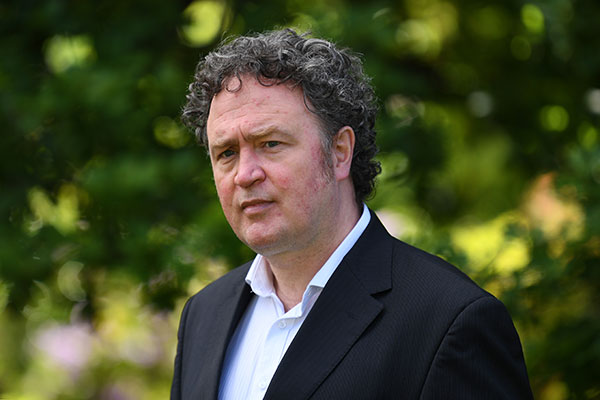 Victoria is on track to reach its next major vaccination target ahead of schedule as Melbourne prepares to exit lockdown, meaning more freedoms are fewer than two weeks away.
The city will emerge from its sixth shutdown at 11:59pm on Thursday, five days earlier than planned after hitting its 70 per cent full vaccination target.
The regional town of Mildura will also exit its lockdown at midnight, a day earlier than planned.
Analysts predict the next target, 80 per cent double dose, may be reached by October 30, a week ahead of the original November 5 estimate.
At that point the metropolitan/regional border will come down, mandatory masks outdoors will be dumped, all retail reopens and up to 150 fully vaccinated patrons can be inside venues.
Acting Chief Health Officer Ben Cowie said the state has 500,000 second doses left to get to 80 per cent.
"We are doing everything we can to hit our next vaccine milestone as quickly as we possibly can. But to also make sure that nobody is left behind," he said.
When stay-at-home orders are repealed, Melbourne residents will have spent 77 full days in their current lockdown, and a world record total of 263 days since the beginning of the pandemic.
Under new rules from Friday, people can leave their homes for any reason and travel anywhere within Melbourne, the 9pm curfew is scrapped and home gatherings of up to 10 are permitted.
Businesses including hairdressers, beauticians and hospitality will reopen for the fully vaccinated.
However, in a last-minute change to plans, all workers reopening to double-dosed patrons will need to be fully vaccinated themselves.
Hospitality venues now have the task of enforcing the vaccination status of patrons and staff.
Terry Casey, owner of the Terminus Hotel in Wycheproof, which is participating in regional trials of the vaccine passport system, agrees with the change.
"You can't expect your patrons to be fully vaccinated and not have the staff," he told AAP.
"We had to have a chat to one staff member and say, until that changes you just have to seek employment somewhere else...or we're more than happy to take you back on board once you've been vaccinated."
It is unclear how the new rules will be policed, with the union saying officers will have to wait until the last minute to find out that detail from the government.
"Our members will be coming on shift tonight and wondering what to do. I don't blame Victoria Police for not having the answers to this," Police Association of Victoria secretary Wayne Gatt said.
AAP has approached Victoria Police for comment on the issue.
Deputy Premier James Merlino told reporters on Thursday there are more than 100 teams of authorised officers making sure businesses "are doing the right thing", but did not comment on how it will be enforced.
Victoria notched up another grim milestone on Thursday, surpassing 1000 COVID-related deaths as it reported a further 12 fatalities and 2232 fresh local infections.
It is the state's second highest daily case tally of the pandemic.
Professor Cowie warned "thousands more cases" could emerge as the city reopens and urged people to continue to wear masks and socially distance.
© AAP 2021
Photo: Victorian Acting Chief Health Officer Ben Cowie (AAP Image/James Ross)